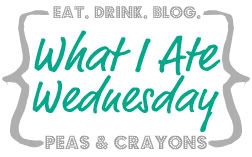 Breakfast Part #1: Fruit Cup
I thought I'd try a fruit cup before 5 a.m. boot camp and see how energetic I felt. Clearly I snapped this pic before my shoes were on! I felt alright after eating it. Nothing worse that burping what you just ate when you are trying to work out & that didn't happen with this fruit (Was that too much information? Sorry, I have no filter today). This fruit was much better than other canned fruit, because the chunks were firm and not mushy. And...hellooo~fruit serving before the sun comes up! Can't beat that :)
Breakfast Part #2: Spinach & Eggs, Mini Smoothie & Coffee
I don't know why I'm incapable of making pretty eggs when a camera is present. Well, whatever. I sauteed a heaping cup of spinach until it shrank down, then added an egg and an egg white and cooked it all up. I made a mini fruit smoothie on the side consisting of 1/2 of a frozen banana, 1/2 cup frozen strawberries, 1/2 container of leftover Greek yogurt (blueberry) and some almond milk to get things moving. It was not as sweet as my smoothies have been as of late, because I guess I'm used to the vanilla protein powder sweetening things. Of course I had to get in some coffee, too.
Mid Morning Snack: 1/2 Luna & Minneola Orange
I had half a Luna bar leftover from the other day. It's rare that I don't finish a bar, but things have been hectic at work. So I ate the other half today and actually only ate half of that minneola orange (What's wrong with me?? Since when do I only eat half of stuff?!). Anyways, I'm not "nuts" over this Luna flavor (ha ha). My favorite is the blueberry crumble. It's like pie.
Lunch: Sort of Quesadilla & Broccoli
Afternoon Snack: Veggies & Hummus
This chunky, rosemary infused hummus was made by yours truly for an
Endless Simmer
post (now if they'd only post it...). I enjoyed it with some carrots & cucumber sticks. I only ate about half (again?!) and threw the rest in the office fridge for another day.
Dinner: Chicken, Sweet Potatoes & Veggies
I experienced a bit of a grill-fail tonight-totally overcooked my chicken and left the beautiful grilled exterior stuck to the grill grates. Sigh. Just that kind of night, I suppose. I did manage to salvage dinner with some awesome sweet potato wedges and roasted broccoli/cauliflower mixture.
After Dinner Drink
God, I bet people reading this blog think I'm an
alcoholic
. I'm not, I swear. Though I don't make a habit of it, I did enjoy a lovely brew after dinner. Love this flavor!
Dessert: Sort of Ice Cream Sandwich
my toes make another appearance ;)
Remember this chocolate graham cracker with fat free Cool Whip from a
previous WIAW
? It's even better when you put it in the freezer overnight. The graham cracker gets soft like a real ice cream sandwich. For like half the calories. I mean, come on. It's a no brainer!
Well, I hope everyone has a great rest of the week!