Wow, Wednesday came fast this week! But that means we are that much closer to the weekend...so yay!
Today's WIAW is all about quick and easy foods, because it was a busy day at work followed by my first evening boot camp workout! No more getting up at 4:40 a.m. for this gal ;)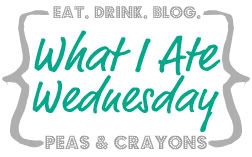 Breakfast: Waffles!
Such a beautiful sight to wake up to! Waffles for lil ole me ;) My guy surprised me with two prepared Nutrigrain low fat Eggo waffles topped with some crunch Skippy, fresh strawberries and sugar free maple syrup. Perfection. I also had coffee times 2, but did not take a picture of it.
A.M. Snack
11 o'clock rolled around and I had forgotten all about my snacks. I poured some almonds on the paperwork I was working on (so hygienic of me) and scarfed down a little cheese wheel.
Lunch: Turkey Sandwich
For lunch I had a quick turkey sandwich, carrots & grapes. The sandwich was comprised of oven roasted deli turkey, a slice of light cheddar, lettuce and honey mustard. Easy and satisfying!
P.M. Snack: Apple
Another cut up apple for your viewing pleasure. I swear this is my most frequented snack. So crunchy and sweet.
Also, I read on Pinterest or somewhere that "there's nothing that a spoonful of peanut butter can't fix." Well I sure hope that is true, because I was cranky hungry at this point in the day.
Bee's knees to the rescue!
Man, getting to my first p.m. boot camp was kind of a hassle. I decided to pack my clothes, change at work and head straight there because it started at 6 (I get off at 5). So I got dressed and popped my contacts in my eyes. While driving, one of my contacts totally got folded in my eye and tucked under the lid. This is gross sounding as I'm typing it. Sorry. So, I drove for a few miles with one eye closed. Don't try this at home. I had to pull over and fix it. Plus I had to go to the bank and get gas. This is why it pays to be prepared and handle all your stuff NOT at the last minute. It's cool. I was right on time, but I thought I'd complain about it for no reason on my blog.
Anyways.....
Dinner: Black Bean Burger
Another easy meal. A Morningstar spicy black bean burger on an 80 calorie bun with avocado, tomato and lettuce, some microwaveable Brussels and a baked potato with lite sour cream. This potato is not as huge as it seems. I smashed it open. It's an optical illusion.
As you might be able to tell, I'm trying to scale back my portions and concentrate on fruits & veggies. I've been doing okay, but man I struggle with dessert. Need it, want it, gotsta have it.
So, I had a 100 calorie chocolate Vitatop and it really did the trick.
Oh, Hi, Bizzy!
I've been buying Vitas on and off for the past 6 or 7 years. You used to have to order them from the website in mass quantities. It's cheaper, but I find they get frost bitten in the freezer after a while and absorb other food smells (ew.). So, I paid a little more and got these from the grocery store (in the freezer section).
You just heat them up for 15 seconds and eat.
I topped mine with a scoop of fat free Cool Whip, sugar free chocolate syrup and sprinkles. You eat with your eyes first, and all that jazz.
That's it as far as eats go.
In puppy news,
Bizzy the dog
finally met Reggie (my boyfriend's family dog who I absolutely adore) & they got along swimmingly!
This made me very happy indeed.
It's funny to see a 15 lb dog walking alongside a 70 lb dog.
Happiness squared ;)
Hope you have a fab week! See ya on the flip side...