Oh, hey there. Long time no see.
If you noticed, I skipped WIAW last week.
Confession: I was on
this soup diet
. It was both torturous and cleansing.
Now I feel a little more on track with healthy eating.
It's been a jam packed week, full of fun times.
Canoeing
Mothers' Day Fun
Celebrating my status as a momma of fur-babies
Now...on to the eats!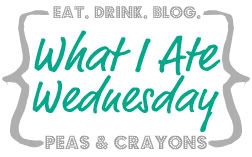 Breakfast: Green Eggs & Fruit
My eyes were waaaay bigger than my stomach was this morning & I only actually ate half of the plate pictured. But, I made an egg white & greens scramble by sauteing a mix of swiss chard, bok choy and baby spinach, then pouring in some egg whites. It stuck to the pan and frustrated me..but oh well. Leftover fruit salad from Mothers' Day brunch & coffee on the side.
Snack: Apple
Can't beat an apple for snack. That's what I always say...ok, never said it before now. But I think that will be my new motto in life.
Before eating lunch, I had to go on a walk with these cutie pies! Love them dogs :)
Lunch: Chicken Curry Wrap
For lunch I put together some wraps with
rotisserie chicken that I added curry to
the night before in a carb smart wrap with spinach & tomato. A little brown rice snuck in there, too.
Snapea Crisps
and kumquats on the side. I had to youtube "how to eat a kumquat."
Here's
a vid, if you are interested.
Iced coffee happened...as it often does.
Grande unsweetened iced coffee with 2 Splendas & a splash of soy milk:
Perfection.
Snack: Yogurt
Before hitting the road for evening boot camp, I had about half of this Greek yogurt with some granola on the top for crunch.
After boot camp, I swung by the house to pick up the Bizzy dog and headed to my parents, where my Dad had grilled up some chicken.
Dinner: Philly Chicken & Veggies
I couldn't leave well enough alone and had to jazz up the chicken by adding sauteed mushrooms, bell peppers & onions topped with melty Swiss cheese. I ate that on top of some sauteed spinach with a side of sweet potato and crisp yellow corn. A winner of a meal!
Then, Bizzy, Mom & I walked around the neighborhood.
After that Mom had to spoil her granddog with cuddles & treats.
Bizzy and I headed home & I made dessert.
Just a chocolate graham cracker with crunchy hazelnut spread. No biggie.
For a dog that NEVER gets people food, she sure knows how to beg.
The pup crashed while I worked on the computer.
I put my camera away after that, but we did end up playing feather toy with the cats which is always entertaining.
All in all, a pretty good Wednesday.