Wow, I guess it's been a while since I popped by the ole blog, huh? It's a whole new year!! And it's very cold..as evident in my picture above of the frozen lake.
I started a thing that I like to call
Project Lean and Clean
. Basically, it's just me wanting to eat better..not so many treats or carbs as I usually eat. I am posting a little picture collage on my
Instagram
every weekday in January. It's going really well, so far. Of course, we are just 8 days into the whole thing. Here's my Day 1 to give you a taste of what I'm talking about. Go to
Instagram
and look at more! And pictures of my dog!
So hopefully my pictures are motivating to others. I know that it is motivating to me to create healthy food that is beautiful and flavorful. Not just limp baked chicken on an iceberg lettuce salad. I mean, come on. Healthy food is not a punishment! It's an adventure.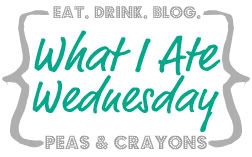 Breakfast: Raisin Bran with Banana
This is not actual Raisin Bran, it's the Aldi brand of the name brand cereal. But, according to my mom, it's tastier and has better nutritional stats. I trust her, so I went and got some. It was really good and filling! I topped mine with some almond milk and half of a banana. Coffee on the side!
A.M. Snack: Fruit Shake
I made the ugliest fruit shake today! Ha ha! It is way yummier than it looks. It has 1 cup of frozen cherries, 1/2 of a banana, almond milk, a handful of fresh spinach, a spoonful of peach puree and a half of a Splenda packet. Yay!
Lunch: Veggie Enchilada Stack on Salad
So, probably the most favorite meal in our house is
sweet potato and black bean enchiladas
. I love them sooo much and so does my guy. But, I made a healthier spin on them using sweet potatoes in place of the tortillas. I'll share the recipe with you Friday. It's so good!
We had some leftovers of my veggie enchilada stack on a bed of chopped romaine, chopped assorted peppers and peas. Topped off with a little fat free sour cream, it was satisfying and full of health!
I enjoyed a nice mug of Kona blend coffee as dessert.
And a dark chocolate kiss once I got back to work.
Dinner: Roasted Red Pepper Chili & Waffle Cornbread
For dinner, I made some delicious chili,
adapting this recipe
.
Then, I made
my cornbread recipe
much, much healthier by switching the butter to coconut oil and reducing it alot. I made it quicker and more interesting by cooking the cornbread batter in our waffle maker (a lovely gift we received for Christmas!).
Roasted Red Pepper Chili
Serves 8
1 (24-ounce) jar of roasted red peppers, diced
1/2 cup of assorted peppers, diced
1 diced zucchini
2 tablespoons chili powder
1/2 tablespoon cumin
1 teaspoon garlic powder
1 pound lean ground beef
2 can reduced-sodium black beans, drained
1 (10-ounce) can diced tomatoes with green chiles (undrained)
2 (8-ounce) cans no-salt-added tomato sauce
salt & pepper to taste
Heat a large pot over medium heat. Spray with cooking spray (or drizzle with olive oil). Add lean ground beef, cooking until the meat begins to crumble and turn brown. Add peppers, zucchini and seasoning and cook for another 3-4 minutes
Stir in remaining ingredients, reduce heat to low and allow to simmer for 15 minutes.
Spoon into bowls, top with desired toppings and enjoy.
Healthy Cornbread Waffles
makes 3 large, round waffles--enough to serve 4-6 people
3/4 cup of all-purpose flour
1 1/4 heaping cup of yellow cornmeal
1 tsp salt
1/2 tsp baking powder
1/4 tsp baking soda
3 tbsp of coconut oil, melted
1 tbsp melted butter
1 1/2 cups of fat free plain Greek yogurt
1/3 cup liquid egg whites
1 cup plain almond milk
Preheat your waffle maker.
Combine wet and dry ingredients separately, then mix them all together.
For our waffle maker, I cook the waffle on each side for 2 minutes, then I place the waffles on a rack in the oven at 200 degrees to keep them warm and crispy while I make the rest.
You can also make this into corn pancakes on a stovetop griddle or bake this in a 9" cake pan for 25 minutes at 400F degrees, if you don't have a waffle maker.
Ok, have a super fun rest of the week! And stay warm!