Happy Wednesday! I can't believe it's almost officially Fall!
Cooler weather means more time spent outside. We took
Bizzy the Dog
on her first hike ever this past weekend. She loved it!!!
She looks so grown in this picture!
She also started a training program this week, so I'll be sure to update you on how she's doing with that down the road. She is so smart and loves learning things, so I know she will make me proud.
Ok, sorry. I'm one of those ladies who loves to talk about her fur-babies :)
On to the eats!!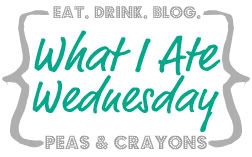 Breakfast: Waffles & Berries
I had plans to get up a few minutes earlier to make some
oat and banana pancakes
, but that didn't happen. So, freezer waffles it is! These are my favorite (and lowest calorie I've found) waffles: low fat Eggo Nutrigrain waffles (140 calories for 2 waffles). I enjoyed them with some sliced strawberries and sugar free syrup. Coffee on the side!
Morning Snack: Oranges & Crisps
For morning snack I had opened a can of mandarin oranges (in fruit juice-no sugar added) and portioned them out in the fridge. So, this is half a can of oranges. I also had this little 100 calorie pack of pastry crisps. They aren't bad, kind of taste like a thin Poptart. I just wanted something extra with my oranges.
Lunch: Salad
For lunch I made salad (again). I've been making at least 2-3 salads a week. I'm back on my salad kick!
In the mix today: spring mix lettuce, oven roasted deli turkey, a hunk of goat cheese, shelled edamame, chopped green beans & a lite balsamic dressing (not pictured). Delicious!
After lunch, I had an iced coffee. Trying to lay off the Starbucks, so my bf brewed up some super strong coffee and we mixed it with a little sweetener and creamer.
Perfection!
Afternoon Snack: Apple
I packed this apple for snack and I'll tell ya, my brain did not want this apple. My brain wanted chips, crackers, peanut butter, etc. But I got hungry around 4 p.m. and sliced the dang apple. It was delicious, so jokes on you, brain!
Dinner: Slow Cooker White Bean Chicken Tortilla Soup
I had forgotten how nice it is for dinner to be made for you in the crockpot! I came home after boot camp and everything was done, so I didn't spend any of my evening preparing food....actually that's not entirely true. I baked cookies to take to work (but that's another story).
Ok, so this soup--holy yum! I was going to make my
Crockpot Chicken Taco Soup
, but didn't have the same ingredients, so I just made a different soup and it was soooo tasty! I recommend that you make it ASAP!
Slow Cooker White Bean Chicken Tortilla Soup
serves 8
1/2 red onion, diced
1 large zucchini, chopped
2 ears of corn, sliced off the cob
1 bell pepper (I used 3 mini sweet peppers)
1 can canellini white beans
1 can chickpeas
1/2 can of diced tomatoes with chiles (aka Rotel)
1/2 cup verde (green) salsa
3 large chicken breasts
1 box chicken broth
2 tbsp spice rub (or 2 tbsp taco seasoning)
1/2 cup reduced fat sour cream
salt & pepper to taste
Spray crockpot with non-stick spray & lay the chicken breasts in the bottom of the pot. Add in the veggies, beans & salsas. Cover with chicken broth until there's about 1/2 inch of liquid above all the ingredients. Cook in the crockpot on low for 8 hours. Shred the chicken with forks. Stir in reduced fat sour cream. Top with avocado, tortilla strips & cheese (if desired).
After I ate my already prepared soup, I made a few dozen cookies. Luckily, I only ate one tester cookie...for scientific research purposes...
I used the back of the
Ghiradelli package recipe
with a few modifications. I lessened the sugar and made them with more brown sugar than white sugar, added 2/3 cup of oats and my fillers included chocolate chips, Heath toffee bits and pumpkin spice M&Ms. So they are more like a monster cookie.
That does it for me.
Check me out later today or possibly Thursday on
Endless Simmer
...maybe they'll post my baked taco roll up recipe this week...