I have a thing for patriotic pancakes. Especially healthy pancakes!
Well, it's What I Ate Wednesday time, folks. Time to partay!
Or at least look at pictures of food. Party in the houssseee!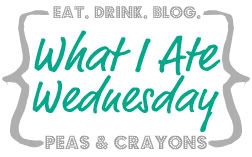 Breakfast: Healthy Pancakes with Fruit
These pancakes have 4 simple ingredients. Can you believe it?!
Here's a "recipe" for ya:
Banana, Honey Oat Pancakes
serves 1 (makes 3 pancakes)
1 large banana
heaping 1/3 cup quick oats
1 egg
1 tsp honey
First grind the oats in a mini food processor (or blender), then add in the banana. Lastly, add in the egg and honey and combine.
Cook on an oiled griddle until golden (flipping halfway through the cooking process).
I topped mine with a smear of reduced fat peanut butter between the layers, fresh fruit and a drizzle of sugar free syrup. Yum yum!
It makes me happy to think that I got at least 2 fruit servings in my first meal of the day :)
A.M. Snack: Cheese & Crackers
I had a quick snack of multigrain crackers with a cheese wedge. Just enough to hold me over til lunch!
Lunch: Cheeseburger Wrap
For lunch, I used half of a
leftover burger
(made with 93% lean sirloin) and made a wrap. In the mix--half a burger, romaine lettuce, pickles, ketchup & mustard on a low carb wrap. I had a side of sad looking veggies and some sweet potato chips.
For lunch dessert (it's a thing), I tried a cookie my boss's wife had made. It was tasty. Speaking of which, does anybody else's boss or coworkers bring junk food to your work environment?? I am mentally battling staying away from that junk in the mini kitchen back there. "No, Nutty Bars. Not today! I am a strong, independent woman and I do NOT need your chocolaty, peanut buttery wafer goodness!"
P.M. Snack: Apple & Almond Butter
I bought a few individual almond butter packets from Target for on the go snacks this week. They are so yummy. I like how grainy and salty Justin's almond butter is. That's weird, right? Well, it's delicious. You should try it if you haven't.
I had a big ole apple and some almond butter for my afternoon snack to tide me over until dinner.
Got home and had some iced coffee before boot camp. I read somewhere that if you drink caffeine 30 minutes before you exercise, you'll have better performance. I didn't prove that theory so much, but it was delicious and it kicked my tiredness in the bootay.
Cue the selfie.
Dinner: Leftovers Casserole
Things may have gotten a little weird for dinner. I'm not really sure. I only have my judgement and my boyfriend's opinion. We both loved it!
I had made BBQ pork loin chops with zucchini and corn for dinner on Monday and I planned to use the leftovers last night.
Now, I think I have been watching too much
Chopped
because I was convinced I needed to "transform" the ingredients. So I made a leftovers casserole. You should give it a go. It's much better than just microwaving some meat and veg.
Leftovers Casserole
serves 2
2 leftover chopped BBQ pork loin chops (or you could use BBQ chicken..or just regular chicken)
1 1/2 cups brown rice (I used a microwavable bag and it was awesome)
1/2 cup diced mushrooms
1 cup leftover vegetables (I used zucchini and corn)
1/2 cup reduced fat or fat free sour cream
2 tbsp goat cheese
2 tbsp grated parmesan cheese
salt, pepper, garlic powder to taste
topping-- 1/2 cup white cheese & a sprinkle of dried basil
Combine all but the topping in a bowl and mix it up.
Preheat the oven to 400F degrees & spray a small casserole dish with non-stick cooking spray.
Spread the mixture in the dish and top with cheese and dried basil.
Bake for 25 minutes & dig in!
I swear, this will not get you "chopped." ;)
Then for dessert, I did something I almost never do--I ate an actual serving of frozen yogurt. I usually eat more than that!
Yay, portion control!
Also, I gotta give a shout out to my diet coach...well, she appointed herself as such. Bizzy the dog barks at me every time I eat fro-yo. Without fail. She's probably just wanting it for herself, but I can guarantee she doesn't want me to eat it.
Such a little stinker!
Have a super fantastic week, all!