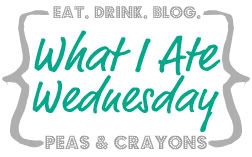 source
Hiya, everyone! Hope everyone is having a super fantastic week. Mine's going well so far.
Enough chit chat. Let me show you what I ate yesterday. Don't act like you don't wanna know..
Breakfast Part I: PB Toast
Yes, I am truly predictable. I had a PB toast before 5 a.m. boot camp. I switched it up and used honey peanut butter...so that's something.
Breakfast Part II: Egg & Bagel
I made an omelet using the rest of my egg beaters, plus an egg white, smoked salmon and feta cheese (reduced fat). Put it all on an everything bagel thin and you got yourself a satisfying breakfast. I had coffee, but didn't take a pic. Use your imagination on that one ;)
A.M. Snack: Yogurt & Granola
I've been digging pomegranate flavored stuff lately, so I grabbed this cherry pom yogurt. It was tasty. Even tastier topped with Bear Naked granola. Yum!
Lunch: Southwestern Potato
I made steak taco salads on Monday and had some leftover fixins. I topped this medium sized baked potato (I know it looks ginormous, but it's a small plate) with black beans, corn, black olives, sauteed peppers & onions and some cheese & salsa. Such a filling lunch!
Followed by...frozen yogurt.
I just couldn't help myself. It was so good!
Yogurt Mountain is my favorite. They have the best flavors! This was dark chocolate truffle (so fudgy!) and caramel pretzel cheesecake topped with Oreo, granola and a circus animal cookie.
No time for a p.m. snack today.
Dinner: Turkey Burger with Goat Cheese & Blueberry BBQ Sauce, Veggies
Aghhh! This was such an awesome tasting meal. All thanks to my blueberry BBQ sauce. This was my first time making a BBQ sauce from scratch and it turned out fantastically. I'll get to the recipe in a sec.
I made a basic turkey burger using spices and breadcrumbs, topped it with goat cheese and blueberry BBQ sauce on a toasted 100 calorie white wheat bun. I served it with a mound of sauteed butternut squash and Brussels sprouts. So good!
So, the sauce. It was tangy with just a hint of sweetness. You could add more heat if you like, but I thought it was perfect. And it was purple, which is my favorite color. Yay!
Blueberry BBQ Sauce
Makes approximately 1 cup of sauce
2 Tbsp olive oil
1/4 cup chopped yellow onion
1 clove garlic, sliced
6 oz fresh blueberries
1 Tbsp brown sugar
1/3 cup apple cider vinegar
1/4 cup ketchup
1 Tbsp worcestershire sauce
1 tsp fresh lemon zest
1/4 tsp cumin
1/8 tsp ground mustard powder
salt & pepper to taste
Heat a sauce pan with the olive oil to medium heat, toss in the onion for about 2 minutes, then throw in the garlic for another minute. Add in the blueberries & brown sugar and stir them around. Let those cook for another minute. Add the rest of the ingredients and simmer for 10 minutes on low-medium heat. Mash the blueberries using a fork or potato masher. Simmer until thickened (about 10 more minutes), stain and serve. You can store this in the fridge in an air tight container for 2 weeks.
This was excellent on turkey, but would also be great on chicken or salmon.
~~~~~~~~~~~~~~~~~~~~~~~~~~~~~~
Links I like this week:
DIY workout tank
(I've tried this before and failed, but this makes me want to try it again)
Dark Chocolate Fudge Merlot Cupcakes
(there are no words)
40 ways to stay fitness motivated in the winter
What to make for Valentine's Day from Shutterbean
This funny
Wine Snobs video
My
Homemade Thin Mints & Tagalongs
Girl Scout Cookies!