Happy Wednesday, everybody!!!
#projectleanandclean
is still going strong! I can't believe I've stuck with it for so long! I gotta say, though, I'm getting kind of tired of taking a picture of every meal and snack.
But, not too much longer!! Of documenting this way, that is. At the beginning of February, I'm going to be very diligent about keeping my food documented in My Fitness Pal app. Yay, technology!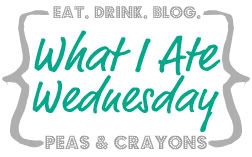 Breakfast: Oatmeal
Boy, do I have a hard time getting my butt out of bed when it's cold out! Such was the case this morning, so I only had time to throw together some quick oatmeal. This is my favorite Quaker date & walnut oatmeal, made with almond milk and banana (I smushed half of the banana into the oatmeal). I also had coffee while running out the door.
A.M. Snack: Orange & Granola Bar
Oatmeal never sticks with me for too long, so around 10 my tummy was telling me it was snack time. So I peeled an orange.
Then I decided I was still hungry and ate half of the bar that I brought. I made these bars using
this recipe
. So good!
Lunch: Soup!
My mom and I both made big batches of soup this past Sunday and then shared with each other. I made
Stuffed Pepper Soup
and she made this one, which is sort of like chicken tortilla soup? Maybe.. It has broth, chicken, beans and salsa verde. I added some fresh spinach to bulk it up a bit. My guy grilled us some half quesadillas (on low carb tortillas) to enjoy on the side.
I got to look at this face while I ate lunch, too! #luckygirl
Reggie is the sweetest puppy boy! Always so happy :)
For dessert, I had whipped up some of
Carrots N Cake's cookie balls
and OMG--so perfect! Love them! I've already made them twice this week. Healthy and delicious! (note-her recipe makes 6 balls, I doubled it..and we had eaten 2 before this picture was taken)
I had one with some coffee. The perfect lunch dessert.
For afternoon snack, I ate the other half of my granola bar.
Then, a super tough boot camp workout...and home to make dinner.
Dinner: Portabella Mushroom Burger with Roasted Veggies
This meal is a real winner, especially if you are craving a burger but are looking to be a little healthier (plus it's vegetarian!).
So, you just marinate your portabellas (wipe them off first with a damp paper towel) with some balsamic vinegar (about 2 tbsp), olive oil, soy sauce (1 tbsp of each), salt & pepper and rosemary. I marinated mine in a giant Ziploc for an hour, but you could probably just marinate it for 20-30 minutes. Then grill for 5-7 minutes on each side. Yum!
I had mine on an 80 calorie whole wheat bun with lettuce, tomato, grilled onions and a little parmesan cheese.
Also, I roasted some cauliflower and sweet potatoes.
For the sweet potatoes, I cut them in large wedges, tossed them in 1 1/2 tbsp of melted coconut oil, salt and garlic powder, then baked them for 25 minutes at 425F degrees, flipped them and baked them for 10 more minutes.
The cauliflower was basically the same, but I baked it for only 25 minutes. Couldn't hurt to leave it in a little longer, though.
After dinner, I had a wonky ice cream cone with low cal (140 calories) Moose Tracks.
I tweeted this the other day, and it still holds true:
Then it was time to read and snuggle with my snoring pup.
Have a super fun rest of the week, y'all! Stay warm!