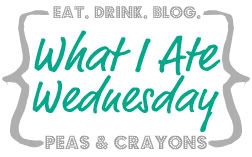 Happy Wednesday, everyone!
It's been a great week! I'm enjoying this last bit of summer weather while dreaming of new fall boots and all the lovely things to come.
This week I decided to dust off
My Fitness Pal
app on my phone and count some calories. I hope you see a difference from
last week
.
Mostly, I just need to stop eating so many treats, you feel?
Ok, let's go!
Breakfast: Spinach Omelet, Toast & Strawberries
The day started off right with 1/3 cup of egg whites, 1/2 cup of frozen spinach (cooked) with a little reduced fat cheddar on top. Strawberries, wheat toast and pumpkin spiced coffee on the side. Yum!
You like my new red table? I guess you can't make the assumption that it is cute based on this picture, but it is. Trust me. When we finally get the kitchen remodel complete, I'll do some before and after pics.
Morning Snack: Nectarine & Almonds
For snack, I very shoddily cut up a nectarine and had a 100 calorie pack of almonds. I really don't care much for natural almonds, I've decided. I much rather prefer the salted and roasted kind.
Lunch: Leftover Healthy "Alfredo" Pasta with Chicken
Lunch was leftovers from the previous night. I portioned out exactly 4 servings of the dinner and quickly put the leftover portions in containers in the fridge. That way I can't go back for more bites! I know myself ;)
Ok, so in the mix is whole wheat rotini pasta, frozen spinach, my
healthy alfredo sauce
and grilled chicken. Pretty darn tasty, if I do say so myself.
Ok, so I have gotten so used to having sweets after both lunch and dinner (naughty!) that I've decided to replace most sweets with tea. That way it gives me a little pick me up and completes my meals.
I had 2 mugs of green tea after I got back to the office.
This is how I feel when I drink alot of tea.
If you guys are on
Facebook
, check out the
Bitstrip comics
. You can design your own avatar (doesn't that look exactly like me-LOL-I'm kidding) and there are a bunch of premade comics you can post. Fun!
Afternoon Snack: PB2 & Graham Crackers
Ok, so I'm totally obsessed with eating peanut butter toast before I go workout. I do it almost every day. I did NOT do it Monday...but Tuesday (the day I take pics for WIAW) I was jonesing.
So, I found an alternative that is fewer calories. Graham cracker squares with powdered peanut butter.
Powdered peanut butter is in no way nearly as delicious as regular PB, but the calories are like 3x or more lower (I'm not good at math).
You used to only be able to buy PB2
online
, but I saw it at my Kroger the other day! You mix the powdered PB with water to make a paste. I added cinnamon to mine.
A pretty decent snack.
Then I prepped dinner to put in the fridge before heading to my boot camp workout. It was a killer workout, indeed.
Dinner: White Bean Burger, Roasted Veggies
For dinner, I went totally veggie and roasted some cauliflower and green beans in the oven (for about 25 minutes at 425 degrees) and made some yummy burgers (I ate mine bunless, but you could add a bun if you like).
White Bean Veggie Burgers
makes 6 patties
1 (14-ounce) can cannellini beans, drained + rinsed
1 (14-ounce) can chickpeas, drained + rinsed
1/3 cup liquid egg whites
1 garlic clove, minced
1/3 cup panko bread crumbs
1 tbsp dried basil
1 tbsp olive oil
1/2 tsp salt
1/4 tsp pepper
1 ear corn, cooked & cut from the cob
1/2 cup frozen spinach, thawed
Add the beans and chickpeas to a food processor with the egg, garlic, panko, basil, olive oil, salt and pepper. Pulse until the mixture is just combined but also a bit coarse. Remove it and place it in a large bowl, then stir and mash in the corn and spinach. Form the mixture into 6 even patties.
Heat a large griddle and spray with non-stick cooking oil. Cook the patties (in batches, if necessary) on both sides until they are golden and warmed through, about 5 to 6 minutes total. Make sure to be gentle when flipping them, and make sure that both sides are brown and crispy.
recipe adapted from How Sweet It Is blog
After dinner, I had plenty of calories left to have a lovely sugar cone with 1/2 cup of frozen yogurt! Yay!
I did drink some sleepy time tea later in the evening, but did not take a picture.
I'll leave you with a super sweet picture of Bizzy!
Have a great rest of the week!