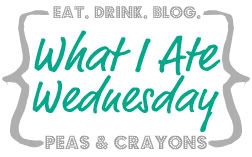 Well, hello there!
It's already Wednesday!! Oh, how I love a short week. I hope everyone enjoyed their Labor Day. Mine was quite relaxing. No labor for this gal ;)
Nothing too exciting today for What I Ate Wednesday, but I did try some new things. So, let's get to it.
Breakfast: Honey & Ricotta English Muffin with Fruit
I saw this
Ricotta Toast
at A Beautiful Mess blog and thought it sounded interesting. I did my own version on a toasted whole wheat English muffin. I added skim ricotta, sliced strawberries and honey. Pretty tasty! Coffee on the side.
A.M. Snack: Watermelon & Cereal
I originally packed watermelon for my snack, but at the last minute decided I needed to eat some Cinnamon Toast Crunch (which was on sale at the grocery this week!). I put about 1/2 cup in a Ziploc. It was very tasty, indeed.
Lunch: Mixed Veggie Salad with Meat & Cheese
After a quick walk with the dogs, I made some salads containing: baby romaine mixed lettuce, broccoli, fresh corn (sliced off the cob), cajun deli turkey, colby cheese and greek yogurt ranch dressing.
Such a perfect end of summer lunch!
My guy brought us some cake to share, too.
Mostly because I heavily suggested it ;)
I made this
Texas Sheet Cake
for the holiday weekend, but I made it in a 9x13 pan (and baked it about 10 minutes longer) and it was perfection. Best cake ever.
Not the best picture ever, but trust me. This is the cake you want to make...for every event. Forever and ever. Amen.
P.M. Snack: PB Toast
I did pack an apple to eat for afternoon snack, but I didn't get to it, so I had some whole wheat toast with natural crunchy peanut butter before heading to boot camp class.
Dinner: Ratatouille Pasta
Remember last week, I was talking about my
Food Network magazine
? This was a recipe I wanted to make from it. So I did....and it was pretty good, though not very photogenic.
My first inclination with any recipe is to simply be inspired by it and not follow it.
I tried my darndest to follow this one, though.
Here's the recipe if you want to check it out:
Ratatouille Pasta
I added mushrooms, red onion and subbed wheat lasagna noodles.
Anyways, next time I think I'll use a rotini veggie pasta and roast the veggies instead of grilling them. Maybe I'll make my own recipe.
Following the recipe is sometimes overrated ;)
For dessert I had some Moose Tracks froyo,
this brand
. I did not take a picture.
I'll leave you with some pictures of my sweet fur babies (well, Reggie is not technically my fur baby, but I love him like he is) and some fun links!
Bizzy the dog, Baby the cat, Boscoe, Reggie
A Few Links I must Share:
20 Homemade BBQ Sauce Recipes
-I sent this link to my boyfriend, and he is very excited to try all of them!
Crockpot Stuffed Pepper Soup
-I cannot wait to try this recipe--yum!
Butterscotch Banana Bread Oatmeal Bites
-I tried these over the weekend. So good!! I will definitely be making them again.
Have a great rest of the week!!