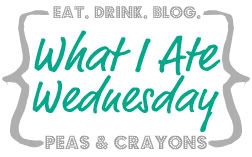 Good Morning!
It's already Wednesday!
Of course, yesterday I was saying, "It's only Tuesday??!!" Now that we've reached mid week, it's all down hill from here.
Anywho, here's my eats from yesterday if you'd like to take a gander...
Breakfast: Fruit Smoothie & PB Toast
Guys, if I could marry a food, it would totally be peanut butter toast. So delicious! I'm such a weird girl ;)
Anyways, had some Skippy crunchy PB on whole wheat toast and a fruit smoothie containing the following: 1 frozen banana, large handful of strawberries, handful of blueberries, 1 tbsp cocoa powder, 1 cup almond milk & one sweetener packet (I use off brand Equal). A great start to the day!
Morning Snack: Nuts & Orange
I was ready for my 10:30 snack and had this teensy handful of peanuts two times ;)
After that, I was not quite satisfied and I peeled an orange.
Don't you hate it when your orange peel is like 1/4" thick, making your orange smaller than you thought and kind of dry? Meh.
Lunch: Tuna Melt, Carrots, Grapes, Chips
After a quick walk with the dogs, I made some open face tuna melts for lunch with tuna, olive oil reduced fat mayo, dijon mustard, a tomato slice and muenster cheese all on a piece of wheat toast. On the side were baby carrots, red grapes and a few salt & vinegar chips.
I tried to have a mug of coffee, but the dogs were playing right beside me and totally knocked the whole mug out of my hand. Meh.
I was pretty satisfied by lunch until about 5 p.m. when my peanut butter toast monster started growling.
I knew on the way home that it was imminent. I even said on the phone that I was "on the way to my peanut butter toast" instead of "on the way home." True story.
When I got home, I had my toast and then walked my girl.
Bizzy loooooves walks!
After a 20 minute walk, I headed to my boot camp workout.
Dinner: Clean Eats Mexi-Rice Bowl
This dinner was stellar! Very flavorful chicken with a little kick, brown rice, black beans and veggies. So good! Make it, won't you?
Clean Eats Mexi-Rice Bowl with Chipotle Lime Chicken
makes 4 servings
For the chicken
:
1 1/2 lbs boneless, skinless chicken breasts, cut into 1-inch cubes
1 tsp salt
1 tsp pepper
1 tsp smoked paprika
2 tbsp olive oil
2 tbsp adobo sauce (from a can of chipotle peppers in adobo)
2 limes, zested and juiced
2 garlic cloves, minced
1 cup chopped mushrooms
Add the chicken and mushrooms to a large bowl and season it with the salt, pepper and paprika. In a small bowl, whisk together the olive oil, adobo sauce, lime zest and juice and garlic. Pour it over the chicken and mushrooms and toss to coat.
Cook in a skillet on medium heat until done (8-10 minutes?).
For the rice
:
1 cup cooked brown rice
1 cup black beans (drained & rinsed)
1 cup cooked corn (I cooked an ear of corn in the microwave for 3 minutes, then cut the kernels off)
1 cup cooked broccoli (I steamed mine in the microwave)
1 tbsp cilantro
1 tsp salt
Mix all rice ingredients together with a large spoon.
Serve chicken over rice mixture. Top with avocado, low-fat sour cream & fresh cilantro. Yum yum!!
chicken recipe adapted from How Sweet It Is blog
Writing this recipe up makes me look forward to leftovers at lunch!
After dinner, I had a small cone of low fat strawberry frozen yogurt.
Uh oh. Bizzy spotted it.
Yep.
I don't know what her deal is with ice cream.
Sigh.
Have a lovely week!!
By the way, I only have 2 more days in my
30 Day Self Portrait Challenge
on
Instagram
! I can't believe I actually finished a photo challenge (well, almost). Yay! I might post a little recap here once it's over.