Hey, hey, hey!
It's time for What I Ate Wednesday again! Yay :)
My eats aren't too exciting today, though. They are almost a version of
last week's post
.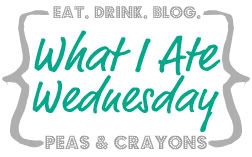 Breakfast: Egg White with Cheese on English Muffin
Seriously with the eggs. I cannot stop! This week I bought the egg whites in the carton, because I was feeling bad about wasting yolks. So I had 1/3 cup of liquid egg whites with some shredded cheese mixed in on a whole grain English muffin with some cilantro on top. Yum yum!
Once again, I had no time for a morning snack.
Lunch: Fish Taco Salad
I made extra
fish taco fixins
on Monday night and turned it into a salad today. In the mix was spring mix lettuce,
cauliflower rice
, smashed black beans, sauteed zucchini and onions, seasoned pan seared fish (tilapia) topped with sour cream and cilantro. It was a really good salad!
After lunch, we played with the dogs in the backyard. I had an iced coffee and some of these candies! I ate half of the 200 calorie bag and then saved the rest for later.
My sweet Bizzy girl loves spring weather!
Afternoon Snack: Grapes
I ate these grapes while driving home.
Dinner: Grilled Turkey Meatball Subs & Roasted Veggies
Sometimes you just need a meatball sub, am I right?
Well, I tried my hand at a healthier version, and it turned out pretty good!
Grilled Turkey Meatball Subs
serves 4
1 12" loaf of bread (I used some sourdough I got on markdown)
premade pesto (optional)
marinara or spaghetti sauce
shredded mozzarella cheese
4 slices provolone cheese
for the meatballs:
1 lb lean ground turkey (I used 93% lean)
2 slices of 35-45 calorie wheat bread, toasted & ground in a processor (or just use 1/2 cup of premade breadcrumbs)
1/8 cup liquid egg whites
2 cloves of garlic, minced
1/4 cup cheese (grated parmesan would be best, but I used mozzarella)
generous sprinkle of the following spices: salt, pepper, paprika, onion powder
Mix all of the meatball ingredients together and form into golf ball sized balls. Mine made 15 meatballs.
Cook in a grill pan for about 4-5 minutes on each side or until done. Assemble!
1-Split the bread into four slices, hollow out the middle of the bread and discard extra bread.
2-Smear on pesto and top with a sprinkle of mozzarella.
3-Place 3-4 meatballs on the bread.
4-Spoon on a little (or alot--whatever you like) marinara sauce
5-Top with a slice of provolone and melt in the oven (or in the microwave-whatever)
This might not be too pretty, but it sure was tasty!
I served mine with roasted brussels and broccoli for a perfectly balanced meal.
For dessert I had a 160 calorie toffee ice cream bar.
Thanks for reading! Hope your day is filled with sunshine and happiness!