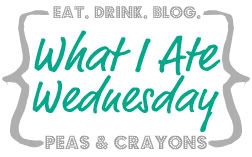 I'm back! I haven't fallen off the face of the planet or anything. I just sometimes need a little bloggy break (said the girl who blogs once a week--ha ha!).
Back with daily eats. This day has 2 really good recipes I will share with you!
Breakfast: Egg Toast & Berries
This is basically how my breakfasts have looked for a week now. Over easy egg, wheat toast, strawberries & coffee. It's a no brainer!
Snack: Cereal
Back to my cereal snack after a hiatus of about 2 weeks. I love, love, love chocolate toast crunch!
Everybody keeps their froyo spoons for cereal, right?
Nope, just me? Okay...
Lunch: Curry Chicken w/ Coconut Rice & Veggie Medley
Today we had the BEST lunch leftovers ever!!! Got this recipe from
Bev Cooks
and totally didn't even look at the recipe while cooking. Typical of me, really. Here's how I made my version:
Curry Chicken w/ Coconut Rice & Veggie Medley
serves 4
3 big, frozen chicken breasts, thawed and diced.
curry powder, paprika, salt & pepper
1 cup jasmine rice
1 can coconut milk
1/2 cup chopped cilantro (plus more for garnish)
1 zucchini, diced
1 yellow squash, diced
1/2 yellow onion, diced
1/2 red pepper, diced
1/2 green pepper, diced
1 ear of corn, cooked, then cut off the cob
1 cup baby kale, chopped
1 clove garlic, minced
2 tbsp coconut oil (maybe more)
salt & pepper, to taste
1/2 lime
Get your jasmine rice, cilantro and coconut milk in a rice cooker. For some reason, mine did not cook it completely in the 20 minute run time, so I turned the cooker back on and added 1/2 cup of chicken broth (so it would not run out of liquid). Season the rice, once it's cooked, with some salt (to taste).
Heat a large skillet on medium heat, add oil to coat, throw in the zucchini, squash, onion and peppers to cook for about 7 minutes, then throw in the kale and corn. Remove from the pan and set aside.
In the same skillet, add more oil if needed and throw your chicken in to cook. Season liberally with
curry powder, paprika, salt & pepper.
Serve it up, squeeze some lime over the top and garnish with cilantro.
Soooo goooooodd!!!!
Snack: Orange Veggie Puffs
I brought an orange to work, but was too lazy to peel it. I snacked on some of these when I got home. Because...veggies, am I right?
Dinner: Spinach Artichoke Quinoa Bake
This was a really good meal! It is pretty healthy and meatless.
Plus it made a ton, which I promptly packed up for lunches for the week!
I served it up alongside some roasted brussels sprouts.
Spinach Artichoke Quinoa Bake
serves 6-8
1 1/2 cups uncooked quinoa
2 cups water
1 tbsp olive oil
1/2 yellow onion, diced
2-3 cloves garlic, minced
1 lb frozen spinach, cooked per package directions
1 can artichoke hearts, chopped
2 tbsp lite butter
2 tablespoons all-purpose flour
1 cup reduced fat milk
1/2 cup plain, fat free Greek yogurt
1/2 cup shredded mozzarella cheese
1/2 cup reduced fat feta cheese
Salt and black pepper, to taste
For the Parmesan Panko Topping:
3/4 cup Panko bread crumbs
1/2 cup freshly grated Parmesan cheese
canola oil spray
Preheat the oven to 350 degrees F. Grease a 9x13 baking dish with cooking spray and set aside.
Cook quinoa in rice cooker. Remove from heat and fluff with a fork. Set aside.
In a medium skillet, heat the olive oil over medium-high heat. Add the onion and garlic. Sauté until softened, about 5 minutes. Add spinach and artichoke hearts. Season with salt and pepper, to taste. Remove from the pan.
In the same skillet, add 2 tablespoons of lite butter and flour and heat over medium heat. Whisk continuously until a paste forms. Whisk in milk. Increase heat to medium/high and bring to a boil whisking the whole time.
In a large bowl, combine quinoa, spinach and artichoke mixture, flour/milk mixture and greek yogurt. Stir well. Stir in the shredded mozzarella and feta cheese. Pour mixture into prepared baking dish.To make the topping, combine Panko bread crumbs and Parmesan cheese in a small bowl. Sprinkle over the quinoa bake and spray with canola oil.
Bake for 35-40 minutes.
Recipe adapted from two peas & their pod
We had this for lunch today and it's really good as leftovers!
After dinner, I made a quick little mug cake by combining 2 tbsp dry sugar free devils food cake mix with 2 tbsp almond milk and microwaved for 45 seconds.
Topped with a scoop of cinnamon ice cream, it was not a bad end to the day.
Have a great rest of the week!!!