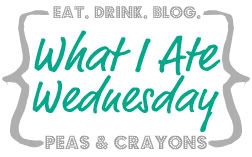 Hi-dee-ho! How's everyone on this beautiful Wednesday?
I felt like this week's WIAW was kind of boring. I guess I feel like that when I don't have a recipe for you. I try to come up with a new recipe every Wednesday, but let's get real..sometimes life just doesn't work that way. So today was just a normal day of eating with some leftovers.
There was alot of colors, though. So, that's something ;)
Alright. Here we go!!
Breakfast: PB English Muffin
I had plans to wake up early and make some pumpkin pancakes, but you know how that goes. So, I got up at regular time and threw together a quick breakfast of a toasted wheat English muffin with crunchy (reduced fat) peanut butter, banana slices and a drizzle of honey. I also had two mugs of coffee.
A.M. Snack: Berries
For Snack I had some kind of dry strawberries. But they held me over til lunch and that's what matters.
Lunch: Subway
You'll notice that all my plans today went awry..but that's okay! My guy was doing some yard work for his uncle so we met for some quick Subway. I had plans to make the salad you'll see later (we had it for dinner, instead). I ordered a 6" ham sub with no cheese and all the veggies. So colorful and delicious. I also nabbed a handful of my boyfriends Sun Chips.
I'd like to say that I had to be talked into going to get frozen yogurt after lunch, but I think it was pretty much in the stars. We actually split a froyo this time. It was just as good. And half the price, obviously.
I think there was cookies & cream froyo, cake batter froyo, sprinkles, Oreo, Butterfinger, cookie dough and fudge sauce. Yes, we go big or go home.
P.M. Snack: Instant Latte
Later in the afternoon, I made an instant pumpkin spice latte. Definitely not as good as Starbucks, but soooo much cheaper and alot less calories. FTW!
Got home and walked Bizzy, then went to boot camp and got my butt kicked. Thank goodness I didn't have to cook!
Dinner: Leftover Fajita Salad
For dinner, I whipped up some leftover fajita fixins on a bowl of lettuce. Here's everything in the bowl: romaine lettuce, whole grain rice blend, black beans, corn, sauteed peppers and onions, zucchini and mushrooms, shredded (reduced fat) cheddar cheese, avocado, greek yogurt with some ranch seasoning, buffalo sauce. It was pretty dang good. And just look at those colors! Lovely.
After dinner, I had my latest drink obsession: Fresca with fresh mint in my big ole wine glass.
Zero calories and so refreshing!
The evening ended with puppy cuddles with this little girl.
Happy Wednesday, everyone!!!